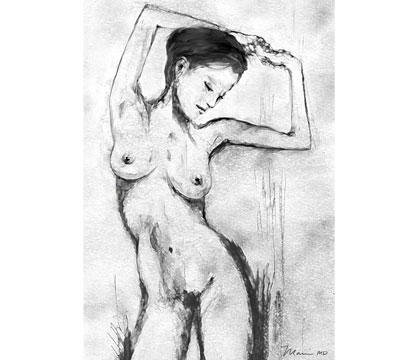 Breast Augmentation & Implants in Beverly Hills
Breast augmentation is a procedure performed to enhance the size of the breasts. It is commonly performed on women born with small breasts or mothers that have noticed a reduction in their breast volume after pregnancy and breastfeeding. Breast augmentation involves the placement of implants filled with a saline or silicone material.
Dr. Marc Mani is the go-to breast augmentation surgeon in Beverly Hills. Dr. Mani understands that his diverse clientele has different ideas of the perfect breast size and shape. His typical patients are professionals who desire a very natural-appearing improvement in the size and shape of the breasts. He works with his patients on an individual basis to achieve their unique cosmetic goals.
Am I a Candidate for Breast Augmentation?
Suitable breast augmentation candidates are physically healthy, psychologically stable and do not have any chronic medical conditions that could increase the surgical risks or delay wound healing. Breast augmentation candidates should not smoke, or be able to quit several weeks prior to surgery.
The best candidates for breast augmentation have reasonable expectations of the procedure. They understand what can be realistically achieved, and they have consulted closely with Dr. Mani about the possible risks and outcomes.
If you desire larger, fuller breasts and would like to learn more about breast augmentation, Dr. Mani encourages you to schedule a personal consultation. During your consultation, he will take down a detailed medical history, perform a physical examination and inquire about your personal goals of surgery. Your implant options will also be discussed. Please call (310) 203-0511 to schedule an appointment.
Breast Implant Options
Since breast augmentation is different for every woman, you have important decisions to make about your procedure.
Implant type: Implants have an outer silicone shell filled with either saline or silicone material. Saline implants contain a sterile saltwater solution, and silicone implants contain a thick, viscous silicone gel material.
Dr. Mani uses silicone implants in the great majority of cases.
The majority of women and physicians feel that silicone implants look and feel more like natural breast tissue. The safety profile of both silicone and saline implants is very similar and has been well-studied.
Implant shape: Implants come in teardrop and round shapes. Round shapes are fuller on top and produce more cleavage or a "push-up bra" result. Teardrop shapes are sloped, with more volume on the bottom, to resemble the curve of a natural breast.
Implant size: Implants can be filled to various capacities, depending on your desired results. Some women want conservatively sized implants for a natural-looking result, while others prefer a more dramatic enhancement. Dr. Mani measures implant size in cubic centimeters (cc's) instead of cup size, since cup sizes can vary wildly between bra brands. Keep in mind that large implants require more natural breast tissue to conceal the edges.
Implant texture: Implants have a smooth or textured surface. Textured implants are less likely to move around within the breast pocket. Dr. Mani has also found that textured implants have a lower rate of capsular contracture.
Incision pattern: Implants can be placed through an incision around the areola-nipple complex, underneath the breast crease, in the armpit or through the belly button. Although some degree of scarring is unavoidable, Dr. Mani will place the incisions as inconspicuously as possible to minimize scarring.
Implant placement: Implants are placed either above or below the pectoralis (chest) muscle, depending on several factors. When the implants are placed sub-muscularly, there is a lower chance of capsular contracture, mammography is more reliable and there is a reduced risk of visible or palpable implant edges.
Dr. Mani will review your options and help you decide which placement and type of implant is best suited to your personal breast augmentation goals.
Breast Augmentation Procedure Details
Breast augmentation is an outpatient procedure that begins with anesthesia. General anesthesia is typically the best option for breast enlargement patients, so they are asleep and at ease during the surgery. Dr. Mani will make the surgical incision in the pre-determined location, which may be along the crease under the breast or the areola edge around the nipple.
Dr. Mani creates a small pocket in the natural breast tissue and carefully inserts and positions the chosen breast implant. The incisions are closed with sutures, surgical tape or skin adhesive and dressed, and then a supportive bra is placed around the breasts to aid healing.
While patients will see an immediate difference in breast size, the healing process takes several weeks, and swelling may take a few months to dissipate entirely. Dr. Mani sees patients for follow-up visits throughout their recovery to ensure they're healing correctly and satisfied with their results.
Breast Augmentation Costs and Financing Options
The cost of breast augmentation is subjective because the procedure is customized to each woman's unique needs and desired results. Different implants and techniques may be used, which affects the procedure price. According to the American Society of Plastic Surgeons, breast enlargement ranges from $4,500 to $15,000.
Total breast augmentation expenses include anesthesia and anesthesiologist fees, surgical facility costs, prescription medicines, post-operative recovery garments, medical testing and the plastic surgeon's fee.
Our office may offer financing options for patients to reach their cosmetic goals with breast augmentation.
Why Choose Dr. Marc Mani, Renowned Plastic Surgeon
Dr. Marc Mani is a Harvard University graduate who earned his medical degree from the prestigious Baylor College of Medicine at the Texas Medical Center. He is a skilled plastic surgeon who has contributed to scientific advancements and innovations in plastic surgery. He has helped notable celebrities and individuals in business and politics enhance their appearance with face, breast and body procedures.
Dr. Mani combines his surgical technique with his artistic talent to provide stunning results for his patients. He is board-certified by the American Board of Plastic Surgery and performs procedures in his private, accredited surgical center.
Combining Breast Augmentation with Other Procedures
Breast and body procedures are often combined for patients with multiple troublesome areas and aesthetic concerns. Breast augmentation is often combined with a breast lift to increase the size and elevate the tissues. Tummy tuck, liposuction and lift procedures complement breast augmentation, and many women choose to combine these options after pregnancy, a combination known as mommy makeover.
BREAST AUGMENTATION RECOVERY
Mild discomfort or pain is common the first few days after surgery, but can be controlled with prescription medication. The breasts will also be sore, swollen and bruised; these symptoms will subside over time.
Although you will likely be able to return to work within a few days, you will have limited range of motion for several weeks. Avoid heavy lifting for two to three weeks, and refrain from any vigorous aerobic exercise for three to four weeks.
You will have several follow-up appointments with Dr. Mani where he will monitor your healing progress, remove bandages and sutures and advise when to resume work, exercise and your regular activities.
Your Breast Augmentation Results

View Breast Augmentation Before and After Photos >>

You will see immediate results after surgery, but it will take some time for your breast size and shape to stabilize. Once you've healed from surgery, you will be very pleased with your results.
With larger, fuller breasts and more cleavage, you will feel more confident with your figure. Your clothing options will increase and you will be more comfortable at the gym, beach and pool.
Depending on your natural breast size and position, you may consider a combination augmentation-lift, which restores saggy breasts to a higher position on the chest wall and increases their size. Dr. Mani can discuss this option with you during consultation.
BREAST AUGMENTATION FAQ
HOW LARGE WILL MY BREASTS BE AFTER AUGMENTATION?
The size of your breasts will depend on the size of your implants. Depending on the manufacturer, implants range from 100cc to 1200cc. Most patients choose implants in the middle of that range, but the decision is entirely up to you. Dr. Mani will give you the opportunity to see what your chest will look like with the implants so that you can ensure your ideal bust size is achieved.
WHICH TYPE OF BREAST IMPLANT IS THE MOST POPULAR?
Many of Dr. Mani's patients However, in recent times, more and more women have been choosing teardrop-shaped implants rather than round ones because they better mimic the natural shape of a breast. As far as the implant filling, silicone is considered to have a more natural feel, but Dr. Mani will review with you the pros and cons of each filling type so that you can make an informed decision. Just because one type is more popular does not mean it is the best choice for you.
HOW LONG DOES BREAST AUGMENTATION SURGERY TAKE?
Dr. Mani typically performs breast augmentation surgery in one to two hours. The surgical technique you agree to with Dr. Mani (i.e. where he will place the incision to insert the implants) will be the primary factor in determining whether the surgery is on the quicker or longer side. Regardless, you will received anesthesia to ensure you are comfortable and unconscious for the duration of the procedure.
WILL BREAST AUGMENTATION IMPROVE SAGGING IN MY BREASTS?
Breast augmentation is a procedure designed to enlarge the breasts; if your breasts sagged prior to enlargement, they will continue to rest in a similar position on your chest afterwards. Breast lift, a separate procedure, is the appropriate method for pulling the breasts higher on the body — to a more youthful position. Those patients who wish to have breasts that are both elevated and larger do not need to make a choice; Dr. Mani is an expert at combining these procedures for optimal, appealing results.
HOW LONG WILL MY BREAST AUGMENTATION RESULTS LAST?
In the hands of a skilled plastic surgeon like Dr. Mani, the results of your breast augmentation should last at least a decade. As you age, your breasts will start to change shape, so you may need to consider breast revision surgery at a later point to maintain your desired breast shape and appearance. To maximize the longevity of your breast surgery results, you should apply sunscreen to any exposed breast skin when outdoors, quit smoking and not allow your weight to fluctuate (up or down) significantly.
IS IT TRUE THAT BREAST IMPLANTS INCREASE MY RISK FOR CANCER?
Although breast augmentation is a very safe procedure overall, in recent years, the FDA has identified a slight correlation between textured breast implants and anaplastic large cell lymphoma. While the risks remain particularly low, it is research worth being aware of so that you can make informed decisions for your body. All women with and without implants should undergo routine mammograms to stay on top of their health. Patients who would like to learn more about the latest research on this subject are invited to broach the subject with Dr. Mani.
What Scars are Associated with Breast Augmentation?
Incision lines or scars from breast augmentation will vary by patient. The location of surgical scarring depends on the incision site. The peri-areolar approach leaves a line around the bottom half of the pigmented skin around the nipple, whereas the inframammary technique creates a line along the breast crease. Both of these types of scarring can be concealed with bras and swimwear.
Breast augmentation scars fade with time, but some habits may help or hinder the healing process. Your genetics play a role in scar development, and exposure to nicotine inhibits healing. A healthy diet, exercise and hydration can help the body recover appropriately and manage medical conditions, such as diabetes, to avoid complications and poor wound healing. These incision lines will continue to fade with time, but silicone sheeting may improve their appearance.
How Can We Minimize Risks and Other Complications of Breast Enlargement?
Breast enlargement is an invasive procedure with risks just like other surgeries. You can reduce your risk of complications by choosing a board-certified plastic surgeon with extensive experience and training, such as Dr. Mani. Dr. Mani performs breast augmentation at his private surgical facility and is devoted to patient safety and satisfactory results. He will discuss the associated risks and how to mitigate complications during your breast enlargement consultation.
Learn More about Breast Augmentation
If you are looking for one of the best breast augmentation surgeons in Beverly Hills, contact Dr. Marc Mani today. Dr. Mani will provide you with information about breast enlargement surgery and your breast implant options. Call our office at (310) 203-0511 or send us an email today.