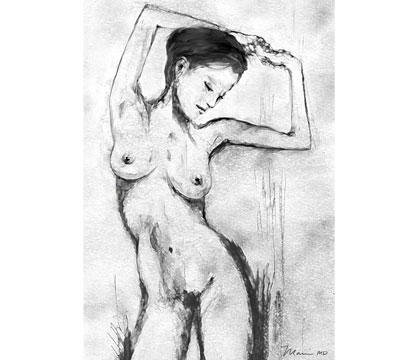 Endoscopic Browlift Surgery in Beverly Hills
An endoscope functions as a viewing device. It consists of a tubular probe fitted with a tiny camera and bright light, which is inserted through a small incision; and a viewing screen to magnify the transmitted images of the body's internal structures. The surgeon watches the screen while moving the tube through the surgical area.
Advantages of Endoscopy
Because it involves smaller incisions, endoscopy leaves very minimal scarring. To insert the probe, only a few incisions less than one inch long are required. For procedures such as breast augmentation, only two incisions may be necessary. Shorter incisions also reduce risk of sensory loss due to nerve damage. Also, bleeding, bruising and swelling may be significantly reduced.
Furthermore, the recovery period tends to be shorter with no need for an overnight hospital stay. Many endoscopic procedures can be performed on an outpatient basis under local anesthesia with sedation.
Special Browlift consideration and risks
The endoscopic approach has only recently been applied to plastic surgery procedures. There are some known risks, which vary in severity depending on the procedure being performed. These include infection, fluid accumulation beneath the skin (which must be drained), blood vessel damage, nerve damage or loss of feeling, internal perforation injury, and skin injury.
And, keep in mind that if a complication occurs at any time during the operation your surgeon may have to switch to an open procedure, which will result in a more extensive scar and a longer recovery period. However, to date, such complications are rare—estimated to occur in less that 5 percent of all endoscopic procedures.
ENDOSCOPIC BROW LIFT FAQS
WHY DOES DR. MANI PREFER ENDOSCOPIC BROW LIFT TO TRADITIONAL BROW LIFT?
With the use of an endoscope, Dr. Mani can more strategically maneuver the skin and musculature to achieve an attractive, younger-looking forehead. The recovery from endoscopic brow lift is also much easier. The smaller incisions enable quicker healing, and the risk of complications is decreased. Scarring is less significant, as well. Although the incisions are hidden along the hairline with either procedure, this becomes especially useful if your hairline recedes in the future.
CAN BROW LIFT BE COMBINED WITH OTHER PLASTIC SURGERY PROCEDURES?
Dr. Mani frequently pairs endoscopic brow lift with other surgical procedures. Many patients choose to combine brow lift with facelift to achieve rejuvenation on both the top and bottom half of the face. Others opt to combine brow lift with blepharoplasty to more thoroughly reverse signs of aging around the eyes. During your consultation with Dr. Mani, share your goals; together, you can decide whether it is appropriate to schedule more than one procedure to achieve your desired look.
AT WHAT AGE SHOULD I HAVE BROW LIFT SURGERY?
Patients seek brow lift at a variety of ages, so Dr. Mani does not believe there is one specific age or age range to recommend brow lift. The right time for endoscopic brow lift is when your forehead skin sags significantly enough that it could benefit from the procedure.
HOW LONG DO THE RESULTS OF ENDOSCOPIC BROW LIFT LAST?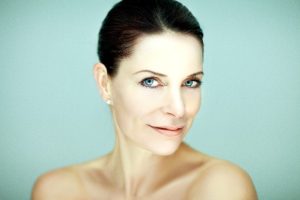 Aging and gravity are inevitable, so no brow lift can be considered permanent. Results tend to differ from person to person, but many of Dr. Mani's patients see the changes achieved from brow lift last for 10 years or more. To preserve your results for as long as possible, Dr. Mani encourages you to stay out of the sun and wear sunscreen. Ultraviolet rays damage the elasticity of the skin, which leads to an increase in wrinkles.
HOW MUCH SCARRING WILL I HAVE AFTER BROW LIFT?
Dr. Mani uses advanced techniques and a delicate touch to ensure that scarring is minimal. Because the incisions are placed along the hairline, once healing is complete, patients commonly notice that their scars have faded from visibility completely.
WHAT ARE NON-SURGICAL ALTERNATIVES TO BROW LIFT?
Endoscopic brow lift is famously one of the safest and gentlest plastic surgeries available, so you may want to discuss the procedure with Dr. Mani even if you might not otherwise consider cosmetic surgery. However, if you would prefer to rejuvenate your forehead and elevate the arch of your eyebrows without the need for a scalpel, Botox is a good solution. Bear in mind that periodic injections will be necessary to maintain the results achieved from injectables.
WHY SHOULD I CHOOSE DR. MANI FOR MY ENDOSCOPIC BROW LIFT?
Dr. Mani is a Harvard graduate who completed his residency at Baylor College of Medicine, one of the top ranked plastic surgery programs in the United States. He is well-known among facial plastic surgeons for his contributions to the field. His glowing reviews and photo gallery reflect that he achieves amazing aesthetic transformations for his patients.
Contact Dr. Marc Mani at his Beverly Hills plastic surgery center at (310) 203-0511.