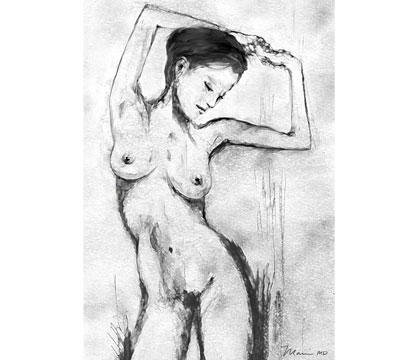 Breast Lift (Mastopexy) in Beverly Hills
Breast lift (clinical term: mastopexy) improves the shape and position of saggy breasts. It also corrects downward-facing nipples and can reduce the size of the areola (the dark skin surrounding the nipple).
The procedure is most successful when performed by a qualified plastic surgeon. Dr. Marc Mani is one of Beverly Hill's most trusted breast lift surgeons. Using advanced surgical techniques, Dr. Mani can restore the breasts back to a perkier position for improved confidence.
Do I Need Breast Lift Surgery?
You may be a good candidate for breast lift surgery if your breasts have lost their perky position and shape over time. With age, the body stops producing proteins essential for firm, elastic skin, and the breast skin becomes lax. Factors like pregnancy, nursing and significant weight fluctuation can cause further sagging and affect the once-youthful shape of the breasts.
In order to qualify for breast lift surgery, you should be in good overall health (in both a physical and psychological sense) and free of any uncontrolled medical conditions that could delay your surgical healing. You should not smoke, or be willing to quit prior to surgery. For the best results, you should not plan to become pregnant or nurse in the future, as these factors could contribute to further breast sagging.
To schedule an appointment and discuss breast lift one-on-one with Dr. Mani, please call our office at (310) 203-0511.
Preparing for Breast Lift
During your breast lift consultation, Dr. Mani will take down your medical history in detail, inquiring about any previous surgeries and other relevant information (e.g., medications that you currently take). You will be asked to describe your breast lift surgery goals and ideal cosmetic outcome. Dr. Mani will propose a treatment plan and explain the procedure in detail, including where the incisions will be made, what the recovery will entail and the (rare) risk of complications.
Once you have scheduled your surgery, you will receive a list of pre-operative instructions to prepare. These instructions include avoiding certain medications that could raise the risks during and after surgery, eating healthfully, getting quality sleep and essentially nurturing your body in anticipation of the procedure.
You are encouraged to ask questions at any point during your consultation or the preparation stage; Dr. Mani and our team are always available to discuss the upcoming procedure.
Mastopexy Procedural Details
Breast lift is performed on an outpatient basis at our accredited surgical facility. You will receive anesthesia medications to remain comfortable during the procedure. Surgery usually takes between 1.5 and 3.5 hours.
Dr. Mani will begin by making the breast lift incisions in one of the following patterns:
Around the perimeter of the areola (minimal incision or "scar-less" breast lift technique)
Around the perimeter of the areola and vertically down to the breast crease
Another common breast lift incision is the anchor pattern, which includes the vertical incision plus a horizontal incision in the breast crease. Dr. Mani does not use this approach, as he is able to produce superior results with fewer incisions via the vertical or minimal-incision techniques.
Through the incision, Dr. Mani will remove excess breast skin. He will relocate the nipple and areola to a higher position on the breast mound, and bring the skin formerly above the nipple down and together beneath the breast to give it a new shape. In some cases where the areola has become stretched, he can reduce it. Finally, Dr. Mani will close the incisions with sutures, dress the incisions with bandages and place a supportive bra around the breasts. Drains may be placed to eliminate fluid buildup during recovery.
Note: breast lift may be combined with either breast reduction or breast augmentation. If you are interested in exploring either of these options, this can be discussed during your consultation.
Breast Lift Recovery
After breast lift, the breasts will be sore, swollen and bruised. You may experience minor discomfort, which can be quelled with oral pain medication. These side effects will subside with time. Wearing the support garment consistently during recovery will help the tissues heal.
It's crucial to avoid any strenuous movement or activity during the first few weeks of recovery. This includes lifting heavy objects and doing any aerobic exercises. Recovery varies by patient, but most of Dr. Mani's patients are able to return to work, exercise and their normal activities within two to four weeks. Dr. Mani will schedule several follow-up visits as you recover to check the breasts' healing, remove sutures and advise when to return to your everyday routine.
Breast Lift Results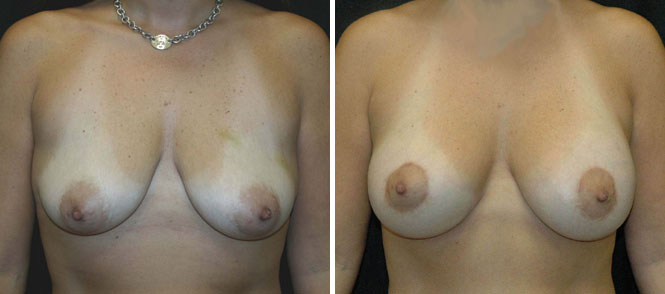 Once your breasts have healed from surgery, they will sit higher on the chest in a perkier and more youthful position. You may be reminded of what your figure looked like years ago, before having children. Your bust will look better in low-cut clothing and bathing suits.
Scarring is unavoidable for patients whose incisions extend vertically down the breast and along the breast crease. However, scars will fade with time until they are minimal.
Breast Lift FAQs
How can I tell if I have drooping breasts?
Some women know they have breast ptosis when looking in the mirror, while others may struggle to tell if their breasts have started to sag. You can do the "pencil test" at home to determine if you have drooping breasts.
Lift one breast with your opposite hand and place a pencil where the breast tissue meets your chest wall (inframammary fold). Release your breast from your hand, then let go of the pencil. If the pencil does not fall to the floor, you likely have drooping breasts and would benefit from a breast lift procedure.
The pencil test can help you see how your breasts may have changed, but it is not a definitive way to determine breast lift candidacy. Our board-certified plastic surgeon can evaluate your breasts and anatomy during your breast lift consultation in Beverly Hills. Dr. Mani will recommend the breast surgery that will provide your desired results.
What are the degrees of breast ptosis?
Breast ptosis is broken into three sub-types or degrees. Grade I breast drooping occurs when the nipple is level with or slightly above (one centimeter) the breast crease. Grade II ptosis is when the nipple is positioned up to three centimeters below the inframammary fold. Severe breast drooping, or Grade III ptosis, occurs when the nipple is over three centimeters under the breast crease, and some of the breast tissue above the nipple (upper pole) may also extend below the fold.
The severity of breast ptosis dictates the surgical approach for mastopexy. The donut breast lift often improves mild drooping (Grade 1), whereas moderate ptosis (Grade 2) may require the lollipop approach. The anchor lift or inverted T breast lift is typically used to correct severe breast ptosis.
Will my breasts have scarring after mastopexy?
Your incision lines after mastopexy depend on the surgical technique. After the donut breast lift, women may have scarring around their areolas, which the darker skin pigment may conceal. The lollipop mastopexy will leave incision lines around the areolas and vertically down to the breast crease. The anchor breast lift technique leaves more significant scarring because it addresses more severe breast ptosis, leaving incision lines around the areolas, down to the breast crease, and along the fold.
Incision lines fade with time as the body and skin tissues heal and won't be noticeable when a woman wears a swimsuit or bra. However, there will be lasting, visible marks from the procedure.
What are the benefits of breast lift?
Mastopexy rejuvenates the breasts, elevating them to a more youthful position on the chest. The nipples have a better projection, and the breast tissue feels firmer. Women who combine breast lift with breast implants also enjoy a size increase that can address the loss of volume or a deflated breast appearance after aging or pregnancy. Some patients may have less skin irritation under the breasts after mastopexy because low-sitting breasts and excess skin can cause chafing and redness.
When should breast lift be combined with breast augmentation?
These procedures serve different purposes and lead to separate results. Breast lift focuses on sagging breasts, while breast augmentation enhances the size of the breasts. However, these breast surgeries are regularly combined to achieve the best results. Women with drooping breasts and volume loss in the upper breast above the nipple or who are unhappy with their breast size can simultaneously address both concerns by combining breast lift and augmentation.
How long does breast lift surgery take?
Depending on the surgical technique, mastopexy may take one to three or more hours to complete. The breast lift procedure will be longer if you also have breast augmentation, tummy tuck, liposuction, or other plastic surgeries. The pre- and post-operative care for breast lift will take additional time, including administering anesthesia and preparing you to go home with a friend and family member.
Schedule a Breast Lift Consultation
To learn more about breast lift surgery with Dr. Mani, please schedule a one-on-one consultation. Call our office at (310) 203-0511 or send us an email today.