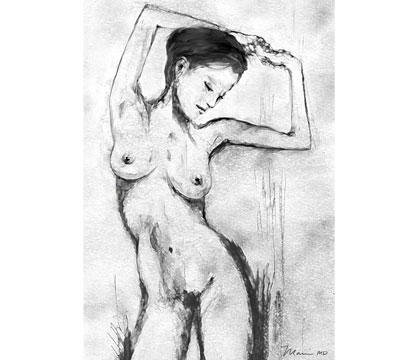 Facelift Surgery in Beverly Hills
Dr. Marc Mani's "TCF Lift" is an innovative new surgical technique with very rapid recovery time. Many of Dr. Mani's TCF Lift patients have recovered a week after their procedure.
Dr. Mani's "TCF Lift" procedure has just been published in the leading academic journal devoted to aesthetic surgery, Aesthetic Surgery Journal, as a new and very natural approach to facial rejuvenation. In the article Dr. Mani describes his technique in detail for other plastic surgeons, using his original artwork. Click on the images below to see the article in pdf form:
Dr. Marc Mani is one of the most renowned facial rejuvenation surgeons in the world, having developed minimally-invasive techniques that require minimal incisions, and pioneering new technology (called Harmonic technology) to reduce swelling and speed recovery time to less than a week. Dr. Mani has attracted worldwide attention by professional associations and patients alike for his innovative approach to facelift surgery in Beverly Hills.
Dr. Mani's technique elevates the deeper, muscular layer of the face and neck rather than simply pulling on the skin. This results in a more natural yet much younger appearance and invisible or virtually invisible incisions. View Dr. Mani's results in his TCF Lift before and after gallery.
Dr. Mani believes in the value of an expertly performed and discreet procedure to rejuvenate the face. He understands that his patients want to look like a better, more refreshed version of themselves, and he offers the technology and skill to accomplish that goal. Dr. Mani's patients often look 10 to 15 years younger after their TCF Lift.
What the TCF Lift Will Correct
With age, the body slows down production of collagen and elastin — proteins that are vital to maintaining a youthful appearance. Other factors, such as sun damage and genetics, can also be detrimental to the facial skin and features. The skin becomes thinner, loses its elastic quality and starts to wrinkle and sag.
But more fundamentally, the facial muscles also lose their tone and along with the fibrous tissue that connects them, they move down to make the face look longer and often "sadder."
hDr. Mani's TCF Lift combined with his trademarked MIST procedure targets common signs of aging, including the following:
Facial folds
Sagging in the midface
Marionette lines
Jowls
Fat displacement
Double chin
A slackened jawline
Wrinkles, lines and creases
Your Facelift Surgical Consultation
You will have the opportunity to discuss facelift with Dr. Mani during a one-on-one consultation. At this appointment, Dr. Mani will take down your medical history to determine your overall health status. He will examine your facial skin and features, inquire about your ideal facelift results and then explain the procedure and his personal approach. Together, you will set reasonable goals of surgery, as well as discuss the possible (rare) risks. Dr. Mani will show you before-and-after photographs to give you a better idea of what facelift surgery can accomplish.
After scheduling your procedure, you will receive a packet of instructions for preparing for surgery. These instructions will include a list of medications to avoid prior to surgery, as well as other guidelines to follow before surgery.
Surgical Facelift Details
Facelift is performed on an outpatient basis at our accredited surgical facility. Anesthesia medication will be administered for your complete comfort during surgery. The duration of the operation will vary, depending on whether other procedures (e.g., neck lift, eyelid surgery) are combined with facelift.
To begin, Dr. Mani will make incisions around the hairline at the temple, just inside the ear then around the earlobe and behind the ear, ending in the scalp. Through the incisions, he will gently lift and reposition the deep layers of facial tissue. He will also tighten the facial and neck muscles, and remove excess skin. When Dr. Mani is finished making the necessary surgical modifications, he will close the incisions with sutures and place fluffy bandages.
Dr. Mani uses Harmonic technology for his facelift procedures. This technology, available through Johnson & Johnson, enables Dr. Mani to gently separate the facial tissues with ultrasound energy. This reduces post-operative bruising and swelling and makes the recovery process quicker.
The endoscopic midface lift may be performed on patients in their mid-30s to 40s whose facial aging is mostly limited to the midface region (i.e., do not have significant jowling, or sagging of the jawline). To perform the endoscopic midface lift, Dr. Mani makes the surgical incisions in the temporal hairline and inside the mouth.
Recovering from Facelift Surgery
After surgery, your face and neck will have noticeable swelling and bruising; these symptoms will improve with time. If you experience any discomfort, you can take oral pain medication as prescribed by Dr. Mani.
It's important to rest your body as it heals from your operation. Avoid any overly strenuous activity but take short walks to promote good circulation. Get plenty of rest and follow all of Dr. Mani's instructions.
You will have several follow-up appointments with Dr. Mani, during which he will check your healing progress and remove sutures. He will advise when it is safe to resume work and exercise. In most cases, facelift patients are back to work within a week to 10 days.
Facelift Results
Facelift scars from the incisions will flatten and fade over time. They are also inconspicuously placed so they won't be detectable.
After healing from surgery, your face and neck skin will look tighter and more toned. Your features will look more defined and overall you will appear more rested and rejuvenated.
Dr. Mani's facelift patients typically look 10 to 15 years younger after surgery.
Facelift FAQ
Am I a Good Candidate for Facelift Surgery?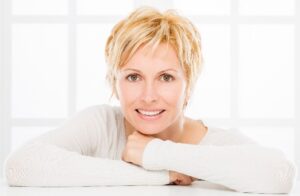 An appropriate candidate for facelift is someone who is in overall strong health — a non-smoker, ideally — who wants to reverse the signs of aging, particularly on the lower portion of his or her face. If you fit that description and are able to set realistic expectations about what a facelift can accomplish, you are likely a strong candidate. The best way to know for sure, however, is to set up a consultation with Dr. Mani.
Can I Combine Facelift Surgery with Other Procedures?
You can absolutely schedule multiple procedures for the same appointment, pending Dr. Mani's approval. Many patients deliberately pair a facelift with forehead lift or blepharoplasty to ensure that the entire face looks evenly rejuvenated.
If you know you want to have multiple surgeries eventually, it certainly makes sense to have the recovery periods run concurrently rather than having to go through the process twice, so be sure to discuss the full extent of your aesthetic goals with Dr. Mani to work out an appropriate plan.
Should I Choose a Non-Surgical Option for Facial Rejuvenation Instead?
Ultimately, that choice is a personal one, but Dr. Mani is happy to meet with you so that you can make a wholly informed decision. Botox, laser skin resurfacing and intense pulsed light therapy can do great things to improve your skin and make you look younger, but they will never last as long or look as significant as a surgical solution. If you are ready to make a long-term investment, facelift surgery may be the wisest choice.
How Long Does Facelift Surgery Last Anyway?
The results of facelift surgery can last upwards of 10 years, but a lot of that depends on you as much as the doctor. To maximize the results for as long as possible, remember to avoid the sun, use recommended skin care products and keep a healthy diet.
Because Dr. Mani's patients tend to describe themselves as looking 10 to 15 years younger after facelift, the good news is after 10 years pass you may still look better than you did before your surgery. Plus, when the signs of aging ultimately creep through again, you always have the option to seek a revision facelift to rejuvenate a second time.
Why Should I Choose Dr. Mani for My Facelift?
Dr. Mani is a well-respected, fully accredited and Harvard-educated plastic surgeon at the top of his field. Though he excels at a variety of procedures, Dr. Mani is best known around Beverly Hills as a phenomenal facelift surgeon, and he has an extensive portfolio to demonstrate this great work.
It is hard to cover up subpar surgical results, which is especially true of work done on your face. If you are committing to facelift surgery, you should select a doctor with extensive experience and amazing reviews — namely Dr. Mani.
To set up an appointment with Dr. Mani to discuss his famous TCF lift, call his office at (310) 203-0511.