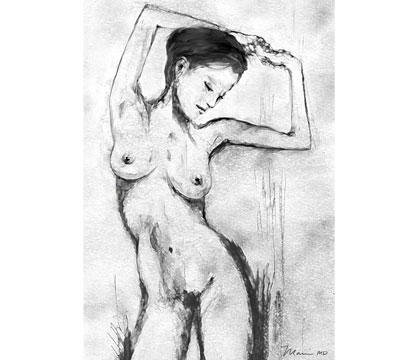 Intense Pulsed Light (IPL) Therapy in Beverly Hills
Intense pulsed light (IPL) technology is one of the most versatile options available at Dr. Marc Mani's Beverly Hills plastic surgery practice. It is a gentle, non-invasive treatment that delivers noticeable, long-lasting results without interrupting your daily routine or causing discomfort. In fact, some of our patients schedule their IPL appointment during their lunch hours and then return to work after treatment as normal.
What Does IPL Treatment Improve?
Intense pulsed light treatment improves the appearance of a number of facial skin imperfections — particularly pigmented skin lesions. These include the following:
Areas of sun damage
Age spots
Freckles
Benign brown pigmented lesions
Redness caused by broken capillaries
In addition to the face, IPL can also be used to treat areas of sun damage on the neck, chest and hands.
Dr. Mani and our team will consult with you to determine your IPL needs and draft a proposed plan for treatment. The consultation appointment will include a review of your medical history, a physical examination of your skin and a discussion of your goals and expectations. We will advise the number of treatments, based on the number and severity of the skin conditions being treated, that we feel will help you best achieve your cosmetic goals.
Intense Pulsed Light Treatment Details
IPL treatment is performed on an outpatient basis at our office. Treatment usually takes about 20 minutes and is performed by Dr. Mani or an experienced member of our team.
Prior to treatment, you may receive a topical anesthetic if we think you need it. A cold gel is applied to the treatment area, and you will receive protective eyewear. The smooth, glass surface of the IPL handpiece is then placed on the skin, An intense pulse/flash of light will be beamed through the handpiece to the treatment area, transmitting a broad spectrum of light. You may feel a slight warming or stinging sensation, like the snap of a rubber band against your skin.
The wavelength range can be altered and optimized for different applications and skin types. The light penetrates the surface of the skin and is absorbed by either the melanin of a pigmented lesion or the blood of a vascular lesion. The injured tissue is then removed by the body's natural processes and the skin takes on a more even and youthful appearance.
On average, we recommend four to six treatment sessions, scheduled at three-week intervals.
Intense Pulsed Light Recovery and Results
After treatment, you can return to your regular routine almost immediately. There may be some minor side effects like slight redness, which will disappear within one to two hours.
Results typically become noticeable after one or two treatments. IPL can permanently eradicate any hyperpigmentation problems, depending on your personal care habits (e.g., sun exposure, skin care routine).
Results of IPL treatment typically last for a year or longer, but we will give you a better estimate based on your individual case.
Clinical studies are underway to quantify the effect IPL treatment has on collagen production, which helps firm and tighten the skin.
Why Choose Dr. Mani
Dr. Marc Mani is world renowned for his surgical skills with aesthetic procedures and his contributions in advancing facelift surgery and other plastic surgeries. After graduating from Harvard University with an undergraduate degree, Dr. Mani earned his medical degree in the Texas Medical Center at Baylor College of Medicine, where he completed his residency training in their top-ranked plastic surgery program. Dr. Mani's skills and artistic eye have attracted patients from around the world, including celebrities and notable people in business and politics.
Dr. Mani has always seen himself as an artist, whether honing his surgical skills, treating patients with non-surgical technologies or enjoying some downtime creating artwork. Patients who choose Dr. Mani know they're in the best hands. While other medical spas may offer IPL treatment or photofacials with an aesthetician, Dr. Mani performs every surgical and non-surgical procedure at his Beverly Hills, California, practice himself.
How Many IPL Treatments Will I Need?
The number of treatments you will need to reach your desired result depends on the type of skin concern and its severity. Each patient is unique as various individual factors affect skin health (e.g., history of excessive sun exposure, smoking and other environmental factors). The skin type and condition affect the treatment details, as someone with significant sun damage and age spots will require a different treatment plan than someone who struggles with redness. IPL treatment focuses on specific pigments in the skin and will first affect the deepest and darkest areas of the face. Subsequent treatments target lighter areas of discoloration.
Most patients will require three or more sessions with intense pulsed light therapy for the best outcomes, and these treatments are spaced one month apart. Dr. Mani will evaluate your pigmentation concerns during your consultation and discuss how many treatments may be necessary to renew your skin.
What Does IPL Treatment Feel Like?
Most patients report that IPL photofacials are not uncomfortable; it is rare to experience pain during the treatment. The IPL handpiece emits light flashes that may feel warm on the skin and sting. The sensations of the light pulses are often compared to a rubber band snapping on the skin.
Is IPL Photofacial Safe?
Laser and light technology use for aesthetic and medical purposes has increased in the last decade, offering profound results for many skin concerns. A 2017 review published in Lasers in Medical Science evaluated the safety of light and laser technologies and cancer risk. Researchers found that more than 25 years of laser and IPL data show the treatments are safe in the long term and do not increase the risk of skin cancer. Light therapy and laser technology have even been used as preventative measures in treating skin lesions to avoid skin tumor formation. Light-based treatments may even help patients with atypical growths and lesions achieve a quicker diagnosis thanks to thorough consultations about skin concerns.
When performed by a highly trained doctor, such as Dr. Marc Mani, intense pulsed light therapy is a safe and effective treatment for pigmented skin lesions.
Contact Our Office for a IPL Consultation
For more information about IPL treatment, or to schedule an appointment, please contact the office of Dr. Marc Mani today. Call (310) 203-0511 or send us an email today.