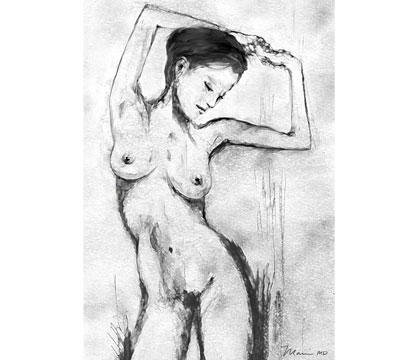 ENERGY-BASED SKIN TIGHTENING IN BEVERLY HILLS
Dr. Marc Mani's Beverly Hills plastic surgery patients often ask him about how energy-based skin tightening works, if it's effective, and how long the results last. We've complied a handful of the most frequently asked questions about energy-based skin tightening so potential patients can learn more about the procedure.
What Is the Deep Infrared Light Procedure?
This procedure was developed to help minimize the signs of aging skin. It works by tightening tissue. It is currently used for treating periorbital wrinkles that appear around the eyes.
How Does Energy-Based Skin Tightening Work?
The infrared (IR) energy uniformly heats the dermis while cooling and protecting the epidermis. It is designed to cause immediate collagen contraction followed by new collagen production that occurs over a period of time. The Deep IR procedure at our Beverly Hills office is the most effective non-invasive method to tighten loose skin.
What Does a Deep IR Procedure feel like?
Deep IR treatment will produce a heating sensation, but it should not be painful.
How Long Will the Deep IR Procedure Take?
Depending on the size of the area treated, the procedure may take anywhere from a few minutes to an hour.
When Can I Return to My Normal Activities?
You may return to your normal activities immediately, as there is usually no "downtime." Minimal redness is seen in some patients, but it usually disappears shortly after treatment. There is no special care needed after treatment. As a part of good skin care, sunscreen is recommended.
When Will I See Results from Skin Tightening?
In most patients, results appear gradually over one to three months, although some patients see an earlier response.
How Many Skin Tightening Treatments Will I Need?
A single Deep IR treatment has produced good results in a significant number of patients. However, your doctor will assess the number and frequency of treatments required to achieve optimal results for your skin.
How Long Will the Effects of the Procedure Last?
Recently published studies show that improvements continue for at least six months after a single treatment session. Other studies show that thermal collagen changes can last several years, depending on the rate of the aging process.
How Safe Is Energy-Based Skin Tightening Treatment?
The procedure is very safe. Although it is possible that skin damage can occur, this advanced treatment has been studied carefully in hundreds of patients with minimal reports of lasting adverse effects.
ENERGY SKIN TIGHTENING FAQS
As we age, it is normal to notice changes in the body and face. Some of the earliest signs of aging are fine lines and wrinkles, especially those around the eyes. Periorbital wrinkles, also known as "crow's feet," develop as a result of aging, sun damage and natural movements of the eye muscles such as squinting, opening and closing.
Patients who don't want to tolerate pesky eye wrinkles are in luck. Therapies for tightening have advanced dramatically over the last decade. Thanks to energy-based skin tightening, patients now have a safe and non-invasive method of treating periorbital wrinkles.
DOES DR. MANI PREFER ENERGY-BASED SKIN TIGHTENING TO OTHER TREATMENTS?
Dr. Mani believes that all of his services provide unique benefits to his patients. If you are looking for the most effective, non-invasive way to tighten loose skin, then energy-based skin tightening is the best method.
CAN ENERGY-BASED SKIN TIGHTENING BE COMBINED WITH OTHER PROCEDURES?
Energy-based skin tightening is effective on its own and is used by some patients to postpone the need for more invasive cosmetic procedures. However, many patients choose to combine energy-based skin tightening with other procedures when seeking complete facial rejuvenation.
If you have questions about how other procedures may benefit you in addition to energy-based skin tightening, then you should schedule a consultation with Dr. Mani. During your consultation, you can discuss your goals with Dr. Mani and together you can decide which procedures will best suit your needs and desired results.
AT WHAT AGE SHOULD I HAVE ENERGY-BASED SKIN TIGHTENING?
Collagen production tends to dwindle as we age. In our 20s and 30s we tend to have better collagen production than in our 40s and 50s. However, the best time for any treatment will depend on your personal skin needs and whether or not you have visible signs of aging.
Ultimately, patients of all ages may benefit from energy-based skin tightening. If you choose to start treatment when you are younger, then you may achieve more dramatic results. As you age, you may notice more skin laxity and the need for skin tightening may become more pronounced.
Every patient is unique; that is why Dr. Mani recommends that patients schedule a consultation to learn more about their skin tightening options.
HOW LONG DO THE RESULTS OF ENERGY-BASED SKIN TIGHTENING LAST?
Your age and skin health will determine how long the results of energy-based skin tightening last. Some patients must come in once or twice a year to maintain results, while others can wait a year or two before needing additional treatment. You can help prolong your results and maintain your youthful appearance by wearing sunscreen and limiting your sun exposure. Dr. Mani may also recommend additional treatments based on your skin's unique needs.
WHY SHOULD I CHOOSE DR. MANI FOR MY ENERGY-BASED SKIN TIGHTENING?
Dr. Mani completed both medical school and residency training at Baylor College of Medicine, one of the top programs in the country. He has earned his reputation in Beverly Hills as a talented and skillful plastic surgeon who achieves the best aesthetic results for his patients.
Contact Dr. Mani for a Skin Tightening Consultation
Contact Dr. Mani today to learn more about getting the Deep IR treatment. Call (310) 203-0511 or send us an email today.