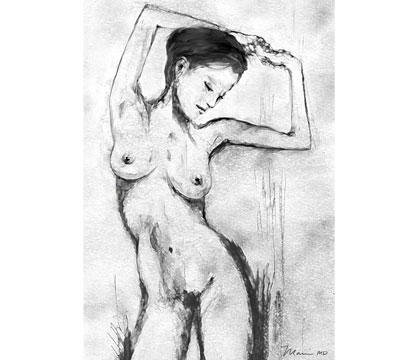 LASER SKIN RESURFACING IN BEVERLY HILLS
One of the most exciting innovations in the cosmetic enhancement industry is the utilization of laser technology. Lasers can be used for minimally invasive and effective facial resurfacing to treat fine lines, wrinkles, sun damage and common signs of aging.
Dr. Marc Mani, a Beverly Hills plastic surgeon, offers a full range of non-surgical facial rejuvenation treatments, including laser skin resurfacing. He uses one of the newest lasers, the Cutera Pearl fractional resurfacing laser, for safe and precise treatment with very little post-operative downtime.
What Does Laser Skin Resurfacing Correct?
Skin resurfacing with the Cutera Pearl fractional resurfacing laser improves the tone and texture of skin with areas of fine lines, sun damage or premature signs of aging. During treatment, the laser gently ablates a fine layer of damaged tissue to improve the appearance of lined, wrinkled, abnormally pigmented or otherwise imperfect skin.
Laser skin resurfacing is optimal for reducing wrinkles, acne scarring and other flaws in the skin, specifically around the mouth and eyes. Many people prefer laser resurfacing to alternatives such as chemical peels and dermabrasion, because there is less pain and a faster recovery time. In most cases, it is a more cost-effective option.
Facial Resurfacing Treatment Details
Laser skin resurfacing is performed on an outpatient basis at our office. You will receive a local anesthetic and light sedation to ensure you remain comfortable throughout the duration of the procedure.
First, the treatment area will be cleansed. Dr. Mani will direct the laser beam at your skin imperfections. The laser light penetrates the surface of the skin to a precise, controlled depth. It vaporizes the outermost skin cells by emitting small bursts of radiation that are absorbed by water in the cells. The Pearl laser is mildly ablative, meaning that it removes only a fine layer of skin and leaves the rest of the skin largely intact to act as a protective dressing while the deeper layers of skin heal.
Recovery and Results From Laser Resurfacing
After treatment, there will be some initial redness and flaking. The redness will fade over the course of a few days to a light pink color, which can be concealed with makeup. The flaking will also subside within a few days.
In most cases, one treatment is enough to produce the desired results. The results depend on factors such as the size, shape and location of the skin imperfection, as well as the patient's heredity, age and general skin condition.
Skin will look more even in tone and texture. Irregular pigmentation — e.g., acne scarring, age spots — will be significantly less noticeable. With more even and healthier looking skin, you will appear more youthful and attractive.
LASER SKIN RESURFACING FAQ
CAN ANYONE GET LASER SKIN RESURFACING?
Most people who would like to improve the appearance of their skin can benefit from laser skin resurfacing and are candidates for this non-surgical procedure. During a consultation, Dr. Mani can confirm your candidacy, as the treatment may not be appropriate for patients on certain medications, those who have an active case of acne and those who are smokers. After examining your skin, Dr. Mani may also suggest an alternative procedure that better addresses the flaws you would like to correct.
SHOULD I AVOID LASER SKIN RESURFACING IF I HAVE A DARKER COMPLEXION?
Laser skin resurfacing does carry a risk for making the treated skin appear darker or lighter, sometimes permanently. This risk is heightened for patients with black or dark brown skin. If you have a darker skin tone, Dr. Mani can review these risks with you and suggest alternative treatments so that you feel completely comfortable in whichever treatment you select.
WHAT ARE SOME OF THE COMPARABLE TREATMENTS TO LASER SKIN RESURFACING?
Intense pulsed light (IPL) therapy is also effective at tackling sun and age spots without causing discomfort or requiring significant downtime. Dr. Mani also offers non-surgical skin tightening that uses infrared energy to improve the texture of the skin for a firmer, less wrinkled appearance.
HOW MANY SESSIONS ARE NECESSARY WITH LASER SKIN RESURFACING?
The number of sessions Dr. Mani recommends depends on the current condition of your skin and your personal goals for the procedure. Most patients undergo multiple sessions of laser skin resurfacing to achieve their desired results and then follow up periodically to maintain these results. With that said, even patients who undergo a single treatment can see visible improvements from laser skin resurfacing.
HOW DO I IMPROVE THE RESULTS FOLLOWING SKIN RESURFACING?
The effects from laser skin resurfacing are typically visible for a few years. You can extend that timeline by adopting a healthy skincare regimen. Dr. Mani suggests that you avoid the sun and wear sunscreen and a brimmed hat anytime you know you will be outside. Moisturizing also is a good way to keep your skin looking rejuvenated and with fewer signs of premature aging.
WHAT IS THE COST OF LASER SKIN RESURFACING?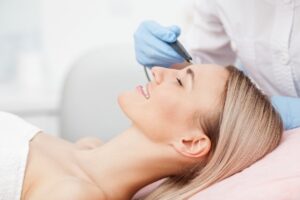 The cost of laser skin resurfacing depends on the number of areas being treated, the size of these areas and the number of sessions required to attain your desired results. During the consultation phase, Dr. Mani is upfront about the costs so that you can make a fully informed decision.
WHY SHOULD I CHOOSE DR. MANI FOR LASER SKIN RESURFACING?
Although laser skin resurfacing is a very safe procedure in the hands of a trained professional, not all people who offer this treatment (even in Beverly Hills) have the expertise and attention to detail to perform it well. Providers with less experience can produce unsatisfactory results and even harm the skin with laser heat. When you choose Dr. Mani for laser skin resurfacing, you can count on him for professionalism and knowledgeable care.
Schedule a Facial Resurfacing Consultation
For more information about laser skin resurfacing, please contact our office to schedule an appointment. Call (310) 203-0511 or send us an email today.